VOICE OF DEMOCRACY SCHOLARSHIP ESSAY CONTEST 2021 - 2022
Each year, nearly 38,000 high school students from across the country enter to win a share of the $2.2 million in educational scholarships and incentives awarded through the VFW's Voice of Democracy audio-essay competition. Erin Stoeckig, a high school junior from Mayo High School in Rochester, Minnesota, was named the 2020-2021 Voice of Democracy first place winner. Erin's speech on the theme, "Is This the Country the Founders Envisioned?" won her a $30,000 college scholarship. The first-place winner from each (state) VFW Department wins a minimum scholarship of $1,000 and an all-expense-paid trip to Washington, D.C.
YOU TOO CAN WIN $30,000!
The 2020-2021 Voice of Democracy winner, Erin Stoeckig, is flanked by the President of the VFW Auxiliary and the VFW Commander-in-Chief.
WHO CAN ENTER: The Voice of Democracy Program is open to students in grades 9-12 (on the October 31 deadline), who are enrolled in a public, private or parochial high school or home study program in the United States and its territories. The national first place winner receives a $30,000 scholarship paid directly to the recipient's American university, college, vocational, or technical school.
HOW TO ENTER:
Download and complete the 2021-2022 Voice of Democracy entry form and submit to the sponsoring post, VFW Post 423.
The 2021-22 theme is: America: Where Do We Go From Here?
Students should record reading their essay on an audio CD or flash drive. The recording can be no shorter than three minutes and no longer than five minutes (plus or minus five seconds), exactly.
Entries must be submitted to VFW Post 423 once students have composed and typed their essay and burned the audio version to an audio CD or uploaded it on a flash drive. Students submit their typed essay, CD or flash drive and their Voice of Democracy entry form to VFW Post 423 by midnight, October 31, 2021 deadline. Deliver or mail to:
VFW Post 423 Graf O'Hara
Phone: (734) 662-3972
About the 2020-2021 VOD National Winner . . . Erin Stoeckig
The 2020-2021 first was Erin Stoeckig, high school junior from Mayo High School in Rochester, Minnesota. Erin's speech on the theme, "Is This the Country the Founders Envisioned?" won her a $30,000 college scholarship. Erin was sponsored by VFW Post 1215 and its Auxiliary in Rochester, Minnesota. Watch as Erin delivered her speech during the VFW's first-ever virtual Parade of Winners award ceremony, live on Facebook.
About the 2019-2020 Local Winners
1st Place $500 Emilly Marciszewski, Saline High School, Saline MI
2nd Place $250 Thomas Hamann, Fr. Gabriel Richard High School, Ann Abor, MI
3rd Place $125 Jeffrey Jones, High School Not Available
The 2021-2022 Contest Essay Prizes
1st Place $700
2nd Place $500
3rd Place $300
The 2017-2018 Contest Essay Winner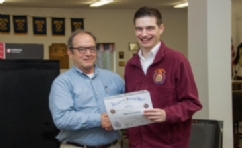 John M. Richardson from Ann Arbor, MI, receives the Local award from John Kinzinger. Richardson won the Local, District, and State competition and was flown to Washington D.C., to receive his awards.
JUDGING CRITERIA:
Originality is worth 30 points: Treatment of the theme should show imagination and human interest.
Content is worth 35 points: Clearly express your ideas in an organized manner. Fully develop your theme and use transitions to move smoothly from one idea to the other.
Delivery is worth 35 points: Speak in a clear and credible manner.
WHAT IS THE DEADLINE FOR MY ENTRY?
All entries competing at the VFW Post 423 are due NO LATER THAN midnight, October 31, 2021. It is the responsibility of students to meet this deadline by submitting their entry to the VFW Post 423 Graf O'Hara Post by the deadline.
VFW Voice of Democracy Program
VOD Prepares You for Life
For Stephanie D'Abruzzo Shemin, one-time Department of Pennsylvania winner, VOD was a milestone in her life.
"What VOD did was prepare me for college and the real world. I saw how I could find my place in this world outside the plastic bubble that is suburban public high school," Shemin said. "Little did I know, while I was writing about America's freedom and independence that it was the beginning of a new chapter in my life — one of personal freedom and independence."
Shemin graduated from Northwestern University with a bachelor's degree in speech. She is currently a Muppet performer with the Jim Henson Company, working for such shows as Sesame Street.
Nate Powell
Voice of Democracy Chairman
Graf-O'Hara VFW Post 423
3230 S. Wagner Road
Ann Arbor, MI 48108
734-678-2444
powell@aaps.k12.mi.us