VFW Post 423 member, William Matte, commissioned as a U.S. Navy Ensign Oct 20, 2023 at the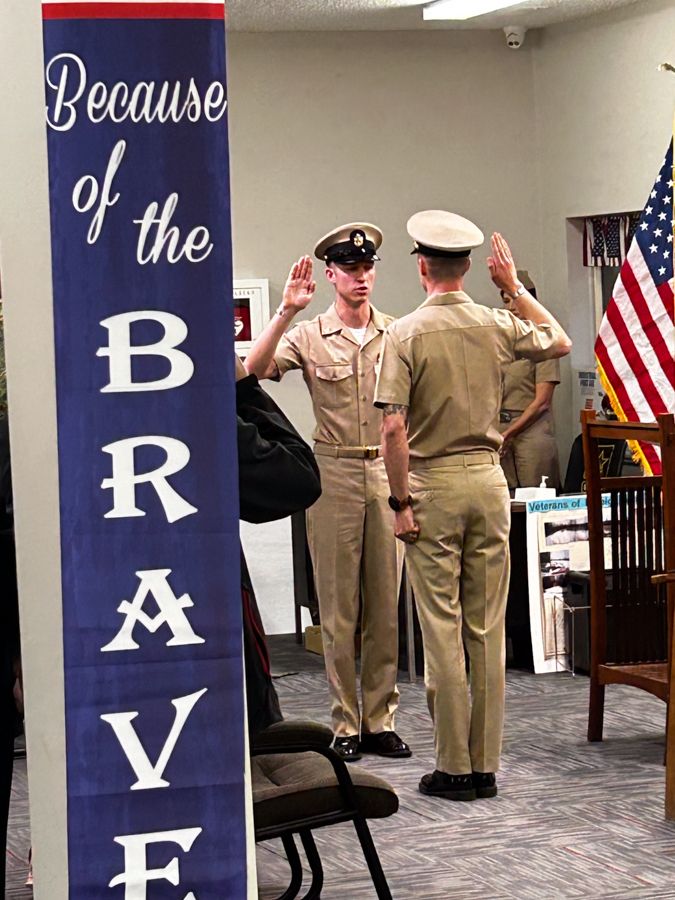 Ann Arbor Post. He originally enlisted in the U.S. Navy in 2012, and transferred to the officer ranks this year. The transfer from enlisted to officer earned him the title "Mustang," a naval term celebrating the experience level he shares on both sides of service.
Operations Specialist Chief William Matte is a native of Ann Arbor, Michigan, and enlisted in the Navy in 2012. Following graduation from basic training, he reported to Naval Air Technical Training Center in Pensacola, Florida, where he attended Aviation Boatswain Mate Handler – Intermediate Apprentice Training "A" School. He graduated top of his class and was promoted to E-2. Upon graduation from "A" school, he checked onboard the USS George H. W. Bush in Norfolk, Virginia.
While onboard the USS George H. W. Bush, he set himself apart from his peers serving as Leading Hanger Bay PO for Bay 3. At just 19 years old he was promoted to Aviation Boatswain Mate Third Class and led dozens of sailors. He deployed in 2014 onboard the USS George H.W. Bush (CVN-77), to the 5th and 6th Fleet Area of Responsibility to support Operation Enduring Freedom and the fight against ISIS. Upon his return from deployment, he was promoted to Second Class. Upon his return from deployment, he transferred to the USS Abraham Lincoln (CVN-72) at Newport News Naval Shipyard in September 2015.
While onboard CVN 72, he helped support reactor complex overhaul by serving as quality assurance for all non-skid applications on the flight deck, hangar deck, and weather decks. In July of 2016 he was accepted into the Naval Reserves and accepted a rate conversion to Operations Specialist. While with TOC Detroit, he led his unit and sailors in many positions including Unit LPO, Unit CFL, and Assistant Unit Career Counselor. He was NRC Detroit's FY22 Sailor of the Year.
Navy Reserve tours include: NRC Detroit and assigned to Navy Reserve OSU Detroit, NAS Sigonella, and Tactical Operations Center Jacksonville – Detroit. His personal decorations include the Navy and Marine Corps Achievement Medal (two awards), plus various other personal and unit decorations.