Jack McCleary
- Army
Age 102, beloved father, grandfather and decorated WWII Veteran passed away peacefully on Thursday, December 22, 2020 at home in the care of his son and Elara Hospice.
Jack is a Michigan native, and served in the United States Army during WWII.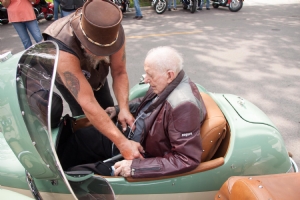 He also owned and loved riding motorcycles, often riding them to work and then changing from riding gear to a suit. On his 100 Birthday, the Foundation 14 Motorcycle Club honored Jack with a vest and a motorcycle ride around town. The vest included his unit patch from World War II. Jack was an artillery trainer and fought in the Battle of Monte Cassino in Italy.
After the war, he went into hospital finance, working at University of Michigan Hospital and Cook County Hospital in Chicago.
"He specialized in turning difficult hospitals around and helping get them on a more solid footing. He was also a member of the American Legion in Milan and the VFW Post 423, Ann Arbor.
Jack is survived by his three sons: Michael (Nadja), Daniel (Susan) and Keith; grandsons, Steven and Sean McClary along with several nieces, nephews and many friends.